personalize
personalize
There is an additional charge of 7,95 € for embroidery per item. The shown extract of the design can vary. Embroidered items may not be exchanged or returned. Approx. 1 additional business day for delivery. Important: Please be mindful of capitalisation. Please do not use special characters or emoticons.
We will embroider according to your specifications.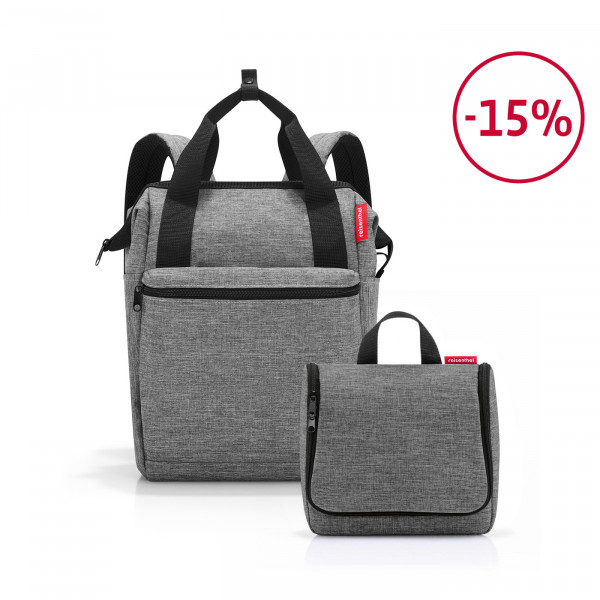 allrounder R + toiletbag Spar-Set
€60.27
€70.90
(15% Saved)
In stock. Delivery date shown at checkout. Delivery time Germany: 1-2 days.
Delivery time Europe: 2-4 days.
Important features
The perfect travel companion
Together with the toiletbag, the allrounder R makes a perfect duo for those who love to travel. The toiletbag keeps toiletries safe and can be easily stowed in the allrounder R.
More details
Artikel Nummer: SETWH7052
allrounder R with twist silver decor:
Dimensions (W x H x D in cm): 48 x 39,5 x 29
Volume: 30 l
Modelled after the traditional doctor's bag: the contemporary interpretation of mobility!
Woven with three times as many fine, ulticoloured threads, this robust material has a particularly sophisticated and unique look
Lightly padded lateral walls and bottom
Opening includes zip fastening and integrated metal bracket
6 inside pockets for practical storage
Carrying strap with comfortably padded shoulder supports
2 carrying handles with grip
Material: premium-quality polyester, water-repellent
toiletbag with twist silver decor:
Dimensions (W x H x D in cm): 23 x 20 x 10
Dimensions expanded (W x H x D in cm): 23 x 55 x 8,5
Volume: 3 l
Just open and hang it up: anywhere at home or on the road!
Woven with three times as many fine, ulticoloured threads, this robust material has a particularly sophisticated and unique look
1 large main compartment with 4 additional pockets
2 zip pockets in the cover
Suspension hook
Mirror can be attached to the inside with Velcro fastening
Material: premium-quality polyester
Reviews